Simple-nodular hepatocellular carcinoma (HCC) with extranodular proliferation: Pathology and comparison
Tokyo Women's Medical University
Dr. Shun-ichi Ariizumi
DATE : 2009
Simple-nodular HCC with extranodular proliferation
Patient's background and objectives of MRI
Female, 68 years old.
Primary complaint: None
History of current condition: The patient was being monitored periodically as an asymptomatic hepatitis B virus carrier at a local hospital.
In February 2008, a hepatic tumor was found, but it was diagnosed as hepatic angiomyolipoma.
Subsequently, the patient showed increase in PIVKA-II, and was referred to the author's hospital.
Blood chemistry test results: Leukocytes: 3000 /μL; hemoglobin: 13 g/dL; platelets: 12 × 104 /μL; AST: 21 IU/L; ALT: 16 IU/L; total bilirubin: 0.4 mg/dL; albumin: 4.2 g/dL; prothrombin time: 100%; ICGR15: 8%; Child-Pugh class: A; HBs antigen: negative; HBe antigen: negative; HBe antibody: positive; HCV antibody: negative; AFP: 3 ng/mL; and PIVKA-II: 394 mAU/mL.
Abdominal CT findings
A tumor 4.4 cm in diameter was found in the posterior segment. Simple computed tomography (CT) showed intensely low absorption. Contrast CT showed hypovascularity with no dark staining even in the arterial phase, and a low-absorption region in the equilibrium phase. Slight protrusion was suspected at the tumor margin.
EOB-MRI findings
There was a high signal inside the tumor in in-phase, T1-weighted imaging; a low signal in opposed-phase, T1-weighted imaging; and a high signal in T2-weighted imaging (photographs not shown). Pre-contrast, fat-suppressed, T1-weighted imaging showed a low signal, and in the dynamic study the interior of the tumor showed a heterogeneous, low signal 20 s after administration, and slight contrast enhancement 60 and 120 s after administration, but the signal was lower than in the surrounding hepatic tissues. In the hepatobiliary phase, the tumor showed a low signal, but the surrounding tissue showed a small, low-signal, protrusion image, and the diagnosis made was simple-nodular HCC with extranodular proliferation.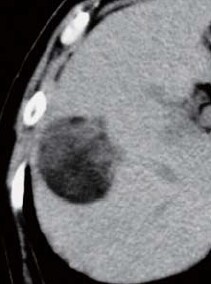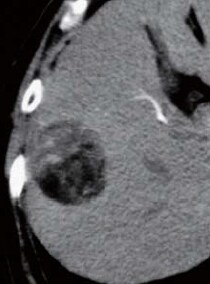 Contrast CT arterial
phase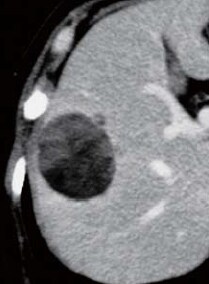 Contrast CT equilibrium phase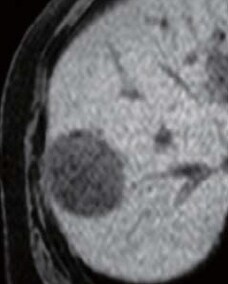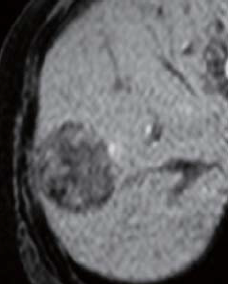 20 s after administration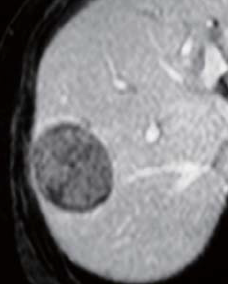 60 s after administration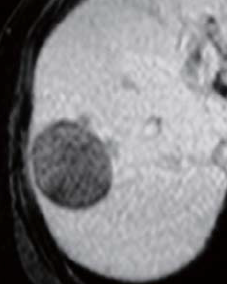 120 s after administration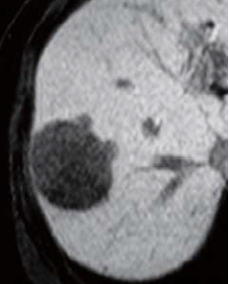 Surgery
Right hepatectomy was performed.
Macroscopic observation of resection samples
The tumor was simple-nodular HCC with extranodular proliferation, associated with capsule formation and a region of extracapsular protrusion and proliferation.
Histopathology findings
(i) A small nodule was found to extend outside the capsule of the principal nodule. (ii) "a" is the principal nodule, with widespread big droplet fat dystrophy and/or edematous changes. A fine hepatic cord structure was found at sites showing minor fatty changes. (iii) "b" is the histological image of the small, extracapsular nodule, with mildly atypical tumor cells showing a fine cord structure.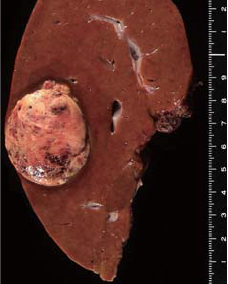 Findings with macroscopic
observation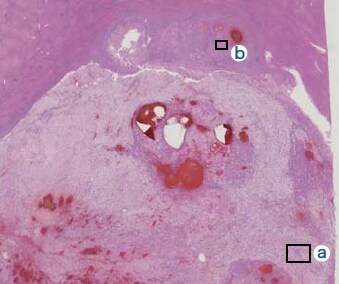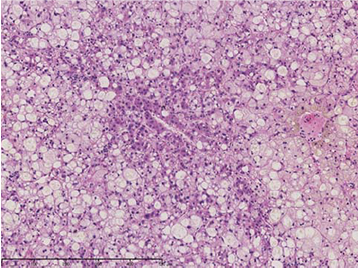 (ii) Magnification of "a"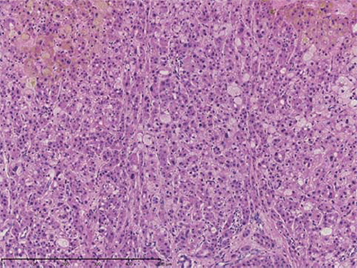 (iii) Magnification of "b"
*

The case introduced is just one clinical case, so the results are not the same as for all cases.

*

Please refer to the Package Insert for the effects and indications, dosage and administration method, and warnings, contraindications, and other precautions with use.